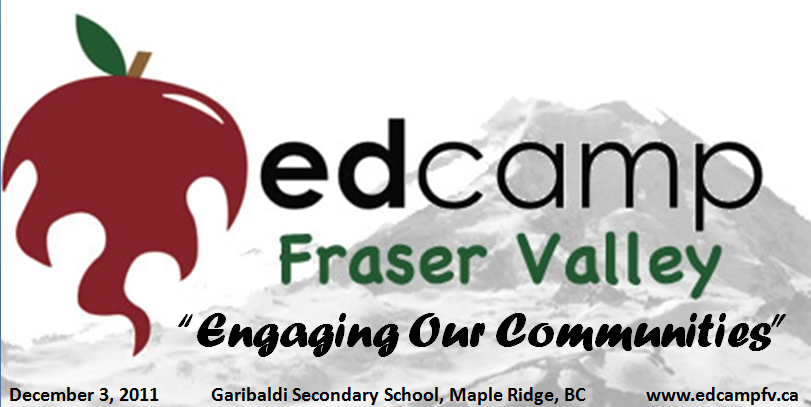 Last April I attended the best professional learning day of my career: Edcamp Vancouver (for more on my experience as an "edcamper", please click here).  Following this experience, I knew we had to bring an "unconference" like this to the Fraser Valley so along with some other admin, teachers, and parents, we have organized Edcamp Fraser Valley for Saturday, December 3 at Garibaldi Secondary School in Maple Ridge.
So what is Edcamp and why is it such an amazing learning experience? Grant Frend, one of the Edcamp FV organizers, describes it as:
One forum that enables educators [including students, parents, community] to engage in meaningful and relevant professional development is the Edcamp model.  What is Edcamp? Edcamp is organic, democratic, participant driven professional development for educators. There are no keynote presentations, there is no formal pre-set agenda, and participants set the course of the day.
My thoughts on Edcamp:
flattened hierarchies

– voices from ALL people passionate about education can be heard rather than one expert and many listeners

participant driven

– have a topic you want to learn more about – put up an idea and then join up with other interested people

all about conversation

– the "empty vase" model of professional development does not exist at Edcamp -YOU drive the learning!

relationships

– you get to meet new people that share areas of interest AND/OR you get to meet those people whom you have already connected with online

flexible schedule

– the schedule is decided on the day and participants are encouraged to vote with their feet – they can decided to move to a different session at any time

networking sessions

– there is much more time in between sessions to continue the dialogue or meet up with other participants to reflect on the sessions. Click here for the schedule for the day.

price is right

– it is FREE! (unless you want lunch which is $5)
Here are some slides from David Wees (the educator who brought Edcamp to BC last year) that describe the Edcamp Vancouver model:

If you are a ANYBODY (students, parents, community members, trustees, educators, etc) interested in education in the Fraser Valley or beyond, come join us in Maple Ridge on December 3rd!
With the release of the BC Education Plan, this is a great opportunity to share and discuss the future of education in the province.  For more information and to register, please go to the Edcamp Fraser Valley website.  Join people already registered from the Frasey Valley, Lower Mainland, Vancouver Island, Okanagan and Washing State!
Also, like us on Facebook. Follow us on Twitter.  For an information sheet to distribute, click here. For more info, please contact me.
For a more in-depth talk on Edcamp, please watch the embedded video from Kristen Swanson: