I continue to hear how certain educational practices are harmful to kids. Things like homework, desks in rows,  multiple choice questions, worksheets, and tests are stated as being "toxic" and "educational malpractice".  I think as educators we need to be careful when we make dichotomous statements like these as they tend to end the chance for any productive dialogue.
I have made this mistake before… many times.  I have my areas of passion and there are mindsets and ideas that I have strong opinions about but I have learned (and continue to learn) that when we make statements that polarize people, you leave very little opportunity to engage.
I saw this tweet today by a few educators whom I truly respect: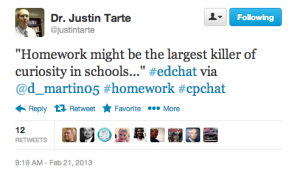 I believe this came from a statement from Alfie Kohn and people were just sharing his message but I am not sure. Now, I have big concerns about homework (see here for our staff conversation) but this statement about homework leads me to a response of: REALLY? Of all the things we do during the 7 hours kids are at school, homework is THE biggest killer of curiosity?  How are we defining homework? What if we move to an inquiry-driven system in which school is real life and they continue their learning at home?  How do we even start the conversation about questioning homework when the statement says that teachers who assign homework (again, not defining what it is) are killing curiosity more than anything else in school.  Do we really think someone who believes in giving  homework will discuss this after a statement like this?
Tom Schimmer once said to me, "Be careful of the tone of your message as it can alienate those you are trying to reach".  When we use powerful polar statements, they often "sell" and get retweeted… but do they do anything to move the dialogue and create educational change?  It is no secret that I am a fan of Alfie Kohn's ideas… but I struggle with the tone that is used.  Compare Daniel Pink's book "Drive" with the writing that Kohn has been doing for years.  They both have similar messages (and cite similar research) but Pink provides a gentle nudge while Kohn makes us feel like we should lose our teaching licenses if we give homework, use worksheets, or have desks in rows.  Kohn has done very well with the language he uses (and again, love his ideas, personally enjoy his books, and the research he shares) but so many are alienated by his tone and the dichotomous statements he makes. As educational leaders, is this the tone we want to use to create the conditions for change?
We have some fantastic teachers at our school.  Sometimes we have desks in rows, sometimes we give worksheets, and sometimes we use multiple choice.  As my buddy Cale Birk mentioned to me: "Maybe we should be questioning the learning tasks (activities) that students are doing?".  I would add – maybe we should be less concerned about some instructions/questions written on sheets of paper (or a screen) and the location in which students are sitting and instead focus our attention on student learning and level of engagement.  Is there NEVER a time when kids prefer to work alone?  Is there NEVER a time when some learning should be done away from school? Black and white statements make it seem like this is the case… and, unfortunately, often end the chance for any professional dialogue on the issue.
The few examples stated are important conversations we need to have as educators.  We need to question our assessment practices as well as our learning activities and what we expect of kids away from school; but in order to effectively engage in conversations around these topics, we need to move away from the dichotomous, or black and white, statements of education.
Education is full of grey areas – some darker and some lighter.  If it was easy we would have figured it out long ago.  The vast majority of educators do not intend to harm students with their practices… it is important we listen and attempt to view through the lenses of others.  Only then can we start powerful conversations about educational change.