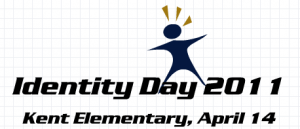 As an educator, I have had so many moments that have taken my breath away; working with kids, we often find ourselves truly inspired.  On Thursday, April 14th, 2011, I had the privilege of being inspired by every student at our school in a way that I can honestly say, had me leave the school that evening with a memory of the best day I have ever had as an educator.
The idea of Identity Day started at Forest Green School in Stony Plain, Alberta and was shared with the world by George Couros.  I presented  this idea to our staff in 2010 and they agreed that they would be willing to take a risk for kids and give the idea a try.  Part of our school goal is to have our students "develop their unique talents and interests" so this idea felt like it was made for our school.
The idea behind Identity Day is that students create a project on themselves; there is no criteria, no grades, and no set topics.  Students were encouraged to design a demonstration, video, powerpoint,  slideshow, poster, display or anything that would help the audience to learn something about them. (see Prezi on Identity Day here).  The idea was that each student and staff member would present in a way that shared a talent or interest about themselves.
Students were given about a month to prepare their projects along with some class time.  Families were encouraged to be involved and those students that struggled were given extra support from older students and staff members.  After presenting to each class, I was not sure how the day would go (whenever I bring a different idea/event to the school, I get nervous about the result); there was not a whole lot of interest a few weeks before… but when students began to bring in their projects a few days prior, we could feel a huge buzz in the school.  Kids were bringing in Lego, pictures, books, posters, stuffed animals, sports memorabilia and equipment – the students were beaming with pride about their projects.
The day of our fair was nothing short of brilliant.  Each class hosted the other classes at one point during the day.  Kids were so excited to teach
others about what was important to them!  We had students bring in all sorts of animals (including a goat!) as well as so many things that were meaningful to the students and staff.  They presented and taught others everything from "stuffies" to "animals" to "sports teams" as well as things more personal like "things I like" to "my family".
It is so difficult to put the day in words; you had to be in our school to truly get a sense of the pride and excitement in our students.  Our school was full of parents, community members and students all genuinely interested in each other.  I learned more about our students in one day than I do in an entire year!
Because of Identity Day, I can now approach any child in the school and have a conversation about something in which they are interested.  In the past week, I have stopped students to ask about dance, Lego, their family, and various sports.  What better way to have students proud of who they are than to have them showcase…. who they are!
Every child has a gift; it is up to us, as educators, to create the environment that encourages the student to develop this strength and passion.  Identity Day is one example of the many things we are trying to do at Kent School to help children find their gifts.  If you have any questions on bringing Identity Day to your school, please comment or email me at chriswejr@gmail.com or on Twitter @mrwejr.
I want to thank the students, families and staff of Kent Elementary for their outstanding efforts.  Also, thank you to George and his school for the idea and the encouragement to bring something truly amazing  and inspiring to our school.
Here is a video that includes a few of the projects from Kent's version of Identity Day: