As an educator, I enjoy meeting with students, parents, teachers, and administrators around topics that will help drive education forward.
If you are interested, I am available to come to your school or community to  present on the following topics (for blog posts that describe my views, click on the link):
Recent presentations:

To access all my presentations, click here. To view slides of specific presentations, click the title.
Creating the Conditions: Developing Confidence in Our Students
February 2015 workshop for educators in the Fort Nelson School District that focused on developing confident learners through strength-based education and effective assessment practices.
Start With Strengths: Change the Lens, Change the Story
September 2014 presentation for the Force Society for Kids' Mental Health 2014 "In the Know" webinar series. Presentation for parents and educators that focused on the powerful impact of changing the lens to a strength-based model.
You can view the presentation here.
Educational Collisions: How Connected Educators Are Creating Positive Change
June 2014 keynote presentation at the 3rd Annual Flipped Classroom Conference. Encouraging people to use social media to enhance the human connection and use this connection to share, collide ideas and create educational change.
Moving Beyond The Newsletter:  Communicating Through Social Media
May 2014 presentation at the BC Confederation of Parent Advisory Councils (BCCPAC) annual spring conference in Richmond, BC. Working with parents and families to become aware of the possibilities for enhanced home-school communication and helping PACs to connect with the parents community at their schools.
Starting With Strengths: The Stories We Build
April 2014 keynote presentation for the BCTF North Central Region Annual Conference in Prince George, BC.  How focusing on strengths, interests and confidence can lead to more growth and engagement of our students… and help create more positive stories and identities of our students in school.
Educational Collisions: How Social Media Can Foster Professional Growth
February 2014 Pecha-Kucha style presentation at the Simon Fraser University Technology Symposium keying on how Twitter can lead to connections that challenge and help us grow.
Moving Beyond The Newsletter: How Schools are Using Technology To Meet Parents Where They Are 
November 2013 presentation at the BC Confederation of Parent Advisory Councils fall leadership conference.  Leading with the WHY of parent communication, different tools are shared and explored to personalize parent communication to meet them where they are.
Educational Leadership: Creating the Conditions for Passion and Innovation
October 2013 presentation for the annual global online education conference "Reform Symposium".  Sharing stories of how schools are creating time and resources for teachers and staff to innovate, tinker with ideas and explore their passions.
Windows of Change: How Connected Educators Are Driving REAL Reform
June 2013 keynote presentation at the 2013 e-learning conference in Lafayette, Indiana. Sharing stories and thoughts on how connected educators are using social media and creating the narrative that is driving real education reform.
Learning Through Social Media: Connecting Educators, Connecting Ideas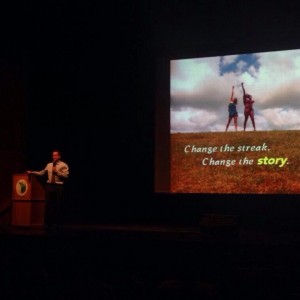 April 2013 presentation/workshop given to the staff of Rosedale Traditional Community School on how social media can help the staff connect within the school as well as throughout the world.

Shifting the Culture: Instrinsic Drive
March 2013 webinar presentation for Education Week as part of their series "The Driven Classroom".

Focusing on creating the conditions for student motivation at a school level.

Key aspects of presentation are growth mindset, assessment for learning, moving away from rewards and awards

Navigating the World of Technology With Our Youth
presentation facilitated with the parents of the Agassiz community in January 2013

focusing on the benefits and concerns of social media; designed to initiate dialogue on how to work with out youth to best navigate the world of social media
Creating the Conditions for Parent Engagement
presentation for the online series "Parents as Partners" with Lorna Constantini in November 2012
recorded online Blackboard Collaborate session can be accessed here
presentation for the MOOC series "Leadership 2.0: A Collaborative Learning Opportunity for School Leaders" initiated by George Couros
online Blackboard Collaborate recording coming soon
presentation at the 2012 BC Principals and Vice Principals Connected Leaders annual conference in October 2012
shared concerns with awards, rewards, punishment and stories of how a school moved away from them
presentation to the education technology students at the University of Victoria in September 2012
for the blackboard collaborate archive of the presentation, please click here
Professional Learning Through Social Media: WHY?
presentations at the 2012 district sumer professional development day in Fraser-Cascade School District
focused on relationships, learning, sharing, and stories.
used to facilitate discussion with grade 5 and 6 students at Kent Elementary in May, 2012
presented to elementary school principals and teachers at the National Association of Elementary School Principals Conference in March, 2012
presented to pre-service teachers at University of Fraser Valley in January, 2012
presented and facilitated discussion at Edcamp Fraser Valley in December, 2011
presented to the leaders in the Chilliwack (SD #33) School District in October, 2011
presented to the admin team in Fraser-Cascade School District in November, 2010
presented at Edcamp Vancouver in April, 2011
I would love the opportunity to connect with you and your school community.  For more information, please email me.